Calls for Participation
ARIN members are often sought out for their industry-specific expertise by a variety of organizations. Please browse below for opportunities to participate - both within and outside of ARIN.

Do you have time for a two-minute survey? ARIN partner Care+Wear values community feedback more than anything. Stories of your healthcare journey are key to Care+Wear's mission of reimagining the way the world looks at and feels about healthcare. Share your patient experiences by completing this two minute survey and enter for a chance to win a $500 Amazon gift card!


Research Participation
Participants are needed in a Research Study: Interventional Radiology Nurses Care During Procedures Without Sedation

Catherine De Leon, a Doctoral nursing student at the University of San Diego, is conducting a research study to look at how IR nurses care for patients during procedures while they are awake and conscious. She is seeking Interventional Radiology (IR) nurses with at least one year experience who have participated in caring for adults during a procedure without sedation.
Participation involves a face-to-face interview (video or in-person) or a telephone interview and takes about one hour. Participants will receive a $25 Amazon gift card.

For more information click here, or contact Catherine De Leon at (619) 777-6631 or email cdeleon@sandiego.edu.


The Interventional Initiative (www.theii.org), a 501c3 non-profit dedicated to educating the public about minimally invasive image-guided procedures (MIIPS), would like to survey imaging nurses about the process for adopting/implementing patient educational material in their organizations. They plan to use this info in their guide to physician practices and imaging departments for rolling out Patient Decision Aids in their practices/hospitals to supplement the informed consent process.
All participants who share their name and email at the completion of the survey will be entered into a drawing for a $100 gift card to Starbucks or Amazon.
If you would like to participate, you can complete the survey here or scan the QR code below.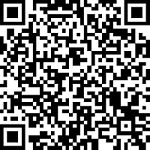 Tabitha DiBacco, M.A., TLLP, a Clinical Psychology Doctoral Candidate at the Western Michigan University is conducting a study to better inform resources for healthcare workers during widespread health crises. Non-administrative, clinical employees in medical facilities based in Michigan are eligible for the study. Participation includes attending three, one hour research sessions and completing 8-11 surveys over a period of 15-17 weeks. It is expected this will take between 6.5 to 8 hours in total. This intervention study has been approved by Western Michigan University's Institutional Research Board.

Individuals who choose to participate are eligible for two free therapy sessions, and a $5 gift card per post-therapy survey completed (five surveys total). Click here for more information.

Speaking Opportunities
INS invites health care clinicians and non-clinicians, INS members and non-members to submit an abstract for INS 2022. Those who are selected will have the opportunity to reach an international audience; bolster their curriculum vitae by speaking at a conference developed by the organization that sets the standards for infusion therapy practice; and submit a manuscript to the Journal of Infusion Nursing. Abstracts should be submitted by November 3, 2021 Learn more.
Coming soon - ARIN's 41st Annual Convention!
Calls for Papers
The Journal of Radiology Nursing is planning a special issue in 2022 on the diagnosis and treatment of neurological problems. Manuscripts should be submitted by December 30, 2021 Learn more.

Volunteer Opportunities
ARIN's 41st Annual Convention Volunteers Wanted
We are seeking two volunteers to serve on the Planning Committee in preparation for our 2022 annual convention. Interested members, please fill out a quick application form, providing your education and goals in radiology, HERE.

Visit ARIN's Volunteer page for more information on ongoing opportunities.
Note: The Association for Radiologic & Imaging Nursing (ARIN) provides these links as a means for nurses working in the radiologic & imaging environment to participate in industry research and events. The inclusion of a link does not imply that ARIN has given its endorsement of listed third party organizations or individuals.