3rd Annual International Nurses Day
I attended the 3rd Annual International Nurses Day at The United Nations on Friday May 10, 2019, sponsored by Nurses with Global Impact. International Nurses Day is celebrated to commemorate the birthday of nursing's founder, Florence Nightingale. Twenty-one nurses from around the world were honored for their compassion, dedication and passion for their work. These honorees came from New York, New Jersey, Maine, Massachusetts, Virginia, Pennsylvania, Chile, Kenya, South Sudan, Iraq, Palestine, China and South Africa. They are role models and paving the way for future generations of nurses.
Leonarda Capponi, my colleague at Northwell Health-Plainview Hospital, and I attended the celebration and presentation of awards, which was broadcast live via webcast on UN Web TV. We met nurses from around the country, networked with the sponsors of the event and enjoyed breakfast prior to the presentation of nominees. Each nominee's personal story was moving and inspirational. The celebration concluded with lunch served overlooking the East River.
I also met with the Director of Nursing for Rad-Aid International, Patricia Du Charme and Dr. Daniel J. Mollura, President and Chief Executive Officer. Rad-Aid brings radiology and medical imaging to developing countries around the world.
The nurses honored and recognized at this event truly have given their lives and talents to others. Their work embodies the essence of nursing… caring for others with compassion. It was an honor to be part of this day and I am proud to be part of a profession that can and does make a difference, every day, all over the world.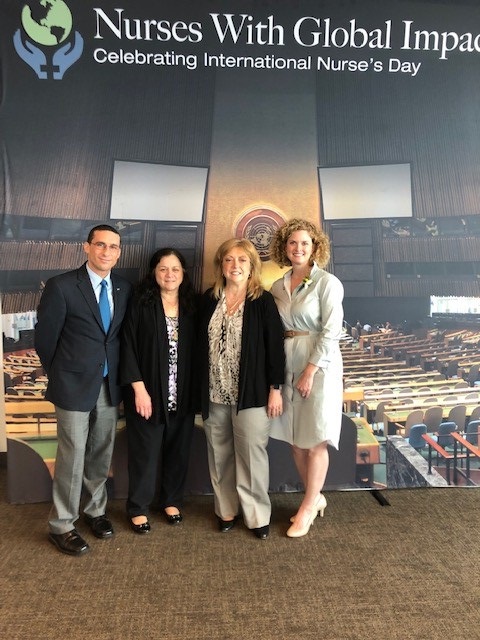 From left to right:
Rad-Aid Chief Executive Officer, Daniel J. Mollura, MD; ARIN Member, Leonarda Capponi, RN, CRN;
ARIN Director of Leadership, Donna Margiotta, RN, CRN; Rad-Aid Director of Nursing, Patricia DuCharme, RN