NECARIN Spring Conference
The New England Chapter hosted our 2019 Spring Education Conference at Lowell General Hospital, Lowell Massachusetts on May 4th. The conference was well attended by nurses from Massachusetts, New Hampshire Connecticut and New York State. The keynote speaker, Cece Lynch, DNP, RN, NEA-BC, FACHE and Chief Nursing Executive at Lowell General spoke about "Nursing Leadership, Emotional Intelligence and Nursing Retention".

The conference transitioned into our clinical topics with presentations from Dr. Allan Hoffman, MD and Dr. Greg Franco, MD, two interventional Radiologist from Commonwealth Radiology. Dr Hoffman presented about peripheral vascular disease and Dr. Franco spoke to the attendees about osseous interventions such as kyphoplasty and tumor ablation. The wound nurse for Lowell General, Bonnie Boie, RN, CWCN, COCN, WOCN, presented about arterial wound care and novel IR peripheral arterial treatment options.
Clinical topics continued after our lunch break. Dr. Michael Long, DNP, CRNA presented about preventing injuries for sedated patients during interventional radiology procedures. Dr. Long discussed the importance of a team approach to positioning the patient for effective ventilation and preventing various injuries, applying his extensive anesthesia and operating room experience in patient positioning to the radiology patient.
The afternoon continued with Martha Manning, BSN, RN, CRN, Manager of IR and Imaging Nursing at Lowell General. Martha shared the development and lessons learned in the development of the pre-procedure assessment and planning of IR procedures. The day of education concluded with an hour of Hot Topics. Moderators included Dr. Long, Martha Manning and Mike Gillespie, BSN, Rn, CRN, current NEC-ARIN president. Attendees were granted 6 contact hours at the conclusion of the conference.
During the meeting Pat McCarthy was presented with the Alan Gold Scholarship. Pat is a former NEC-ARIN board member and former chapter president. The Alan Gold scholarship reimburses a chapter member their conference fees in Alan's memory. Alan was a former NEC-ARIN board member and interventional radiology nurse.
Our next conference is scheduled for November 2nd​ ​, 2019 at Cooley Dickinson Hospital in Northampton, Massachusetts. With members located throughout the New England states, the Chapter rotates the location of our educational events to accommodate for distance and being accessible to all members throughout the region.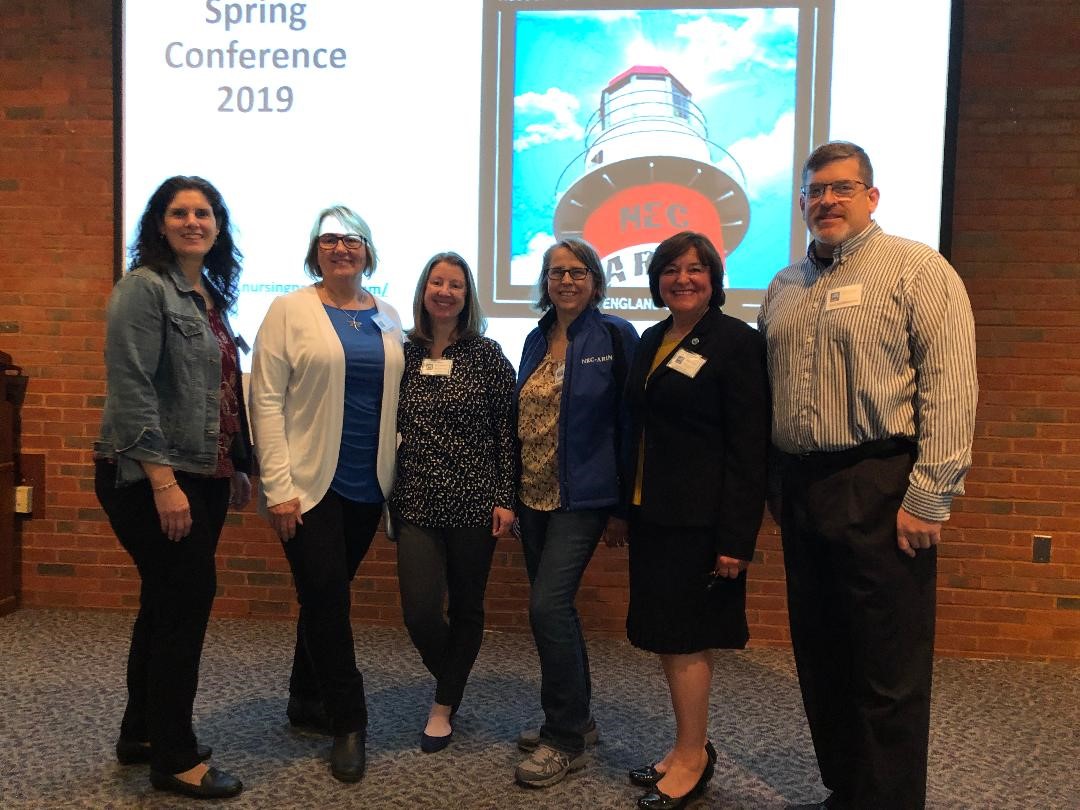 NEC-ARIN Board Members
Left to Right: Charlene Desimone, Colleen Robinson, Beth Arsenault, Petra Clark,
Mary Sousa, Mike Gillespie