NWARIN Chapter Update
The Northwest Chapter of ARIN sponsored the 2-day Imaging Review Course on November 3-4, 2018. Thirty-five nurses gathered at Swedish Medical Center in Seattle, WA for the offering taught by Lauren Miller, BSN, MSN, Master Faculty. Nurses who travelled from as far as Florida, Mississippi, Vermont, California, Minnesota joined nurses from Washington and Oregon to be immersed in the depth and breadth of the Imaging world, as well as review the most current nursing practices. Generous sponsorship by Boston Scientific and Chamberlain University provided support for the event. Attendees were engaged in sharing their experiences in radiology nursing practice and enjoyed lively dialogue during question and answer periods.
Plans are in progress for the 2019 Fall Conference, to be held on September 14 at Jackson Hall on the Multicare Tacoma General campus in Tacoma, WA. Among topics to be presented are: Keynote presentation "Legal Considerations in Nursing" by Margaret Holm JD, RN Consultant to Washington State Nursing Commission; Panel presentation on Sedation and Anesthesia in IR and Imaging setting, contrast reaction and other emergencies in radiology setting, alternative and complementary care approaches; Spinraza, Vertebral Augmentation and Ablation. CE's for technologists will also be provided.
NWARIN recognized the important contributions of founding member Betty Heyano RN. Betty was a founding member of ARIN, known then as ARNA. Betty returned to Seattle and organized the first meetings of Seattle and Puget Sound area radiology nurses. The Northwest Chapter, originally known as NWARNA, was founded in 1987. Betty was an active member, served many leadership roles, and attended every chapter meeting and conference up until the time of her death in 2013. A scholarship has been founded in her honor.
A note of appreciation for Connie Flores RN, CRN, BSN, who has served as an active member and leader for the NWARIN chapter since 1987 and an active member of ARIN. Connie has most recently served as Treasurer and Conference planner. Connie will continue to serve as a chapter board member, as she moves on to new adventures following her retirement from Swedish Medical Center.
NWARIN recognizes the contributions of members, founders and the important work and care that Imaging nurses provide daily. A display that honored our founding member Betty Heyano was created. Photo collage from 2018 fall meeting: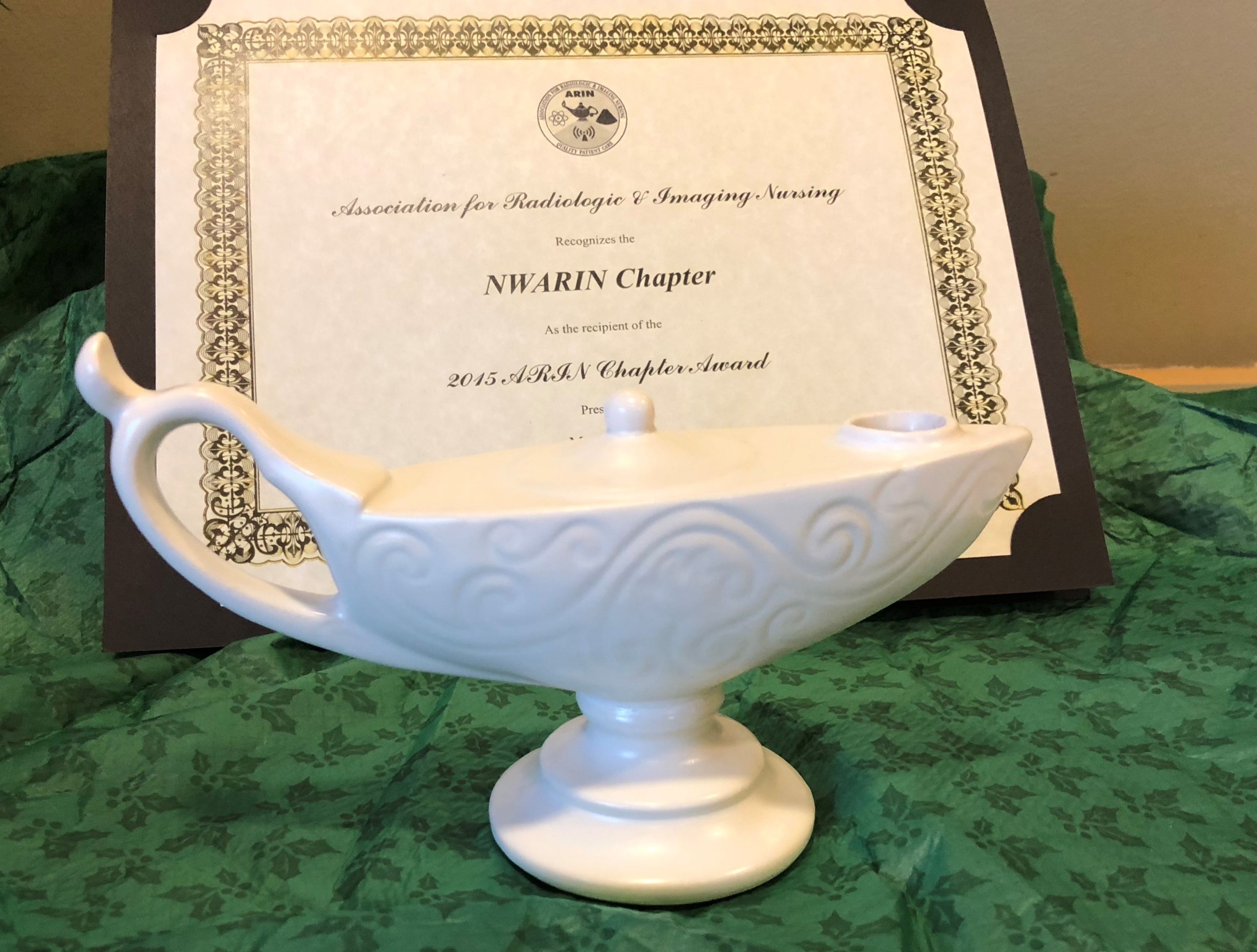 Display of "2015 Chapter of the Year Award" presented to NWARIN Chapter and Betty Heyano's nursing graduation lamp ( St Luke Nursing School, Seattle,, WA 1949) presented to NWARIN chapter November 2018 by her niece.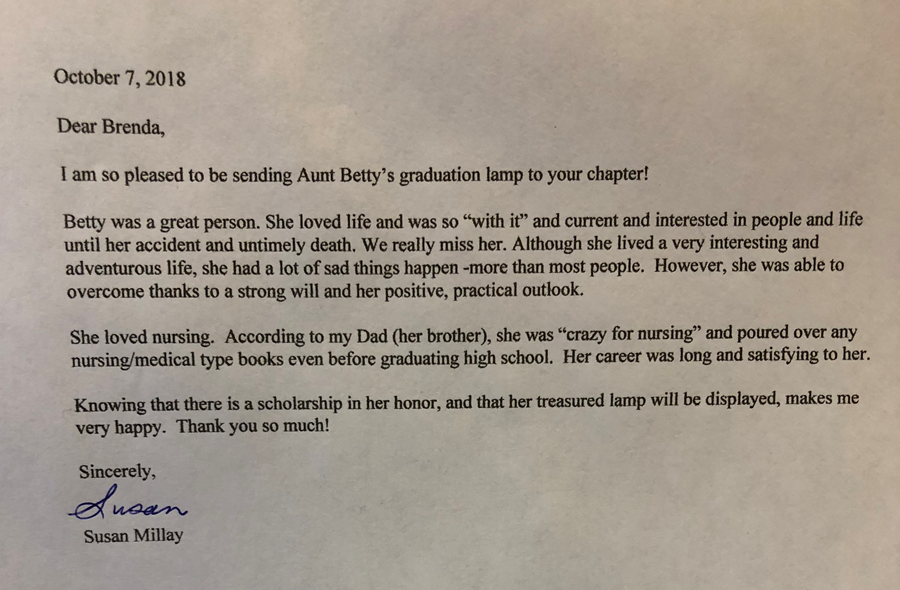 Letter of appreciation from Susan Millay, niece of Betty Heyano,
Founding member of ARIN and NWARIN.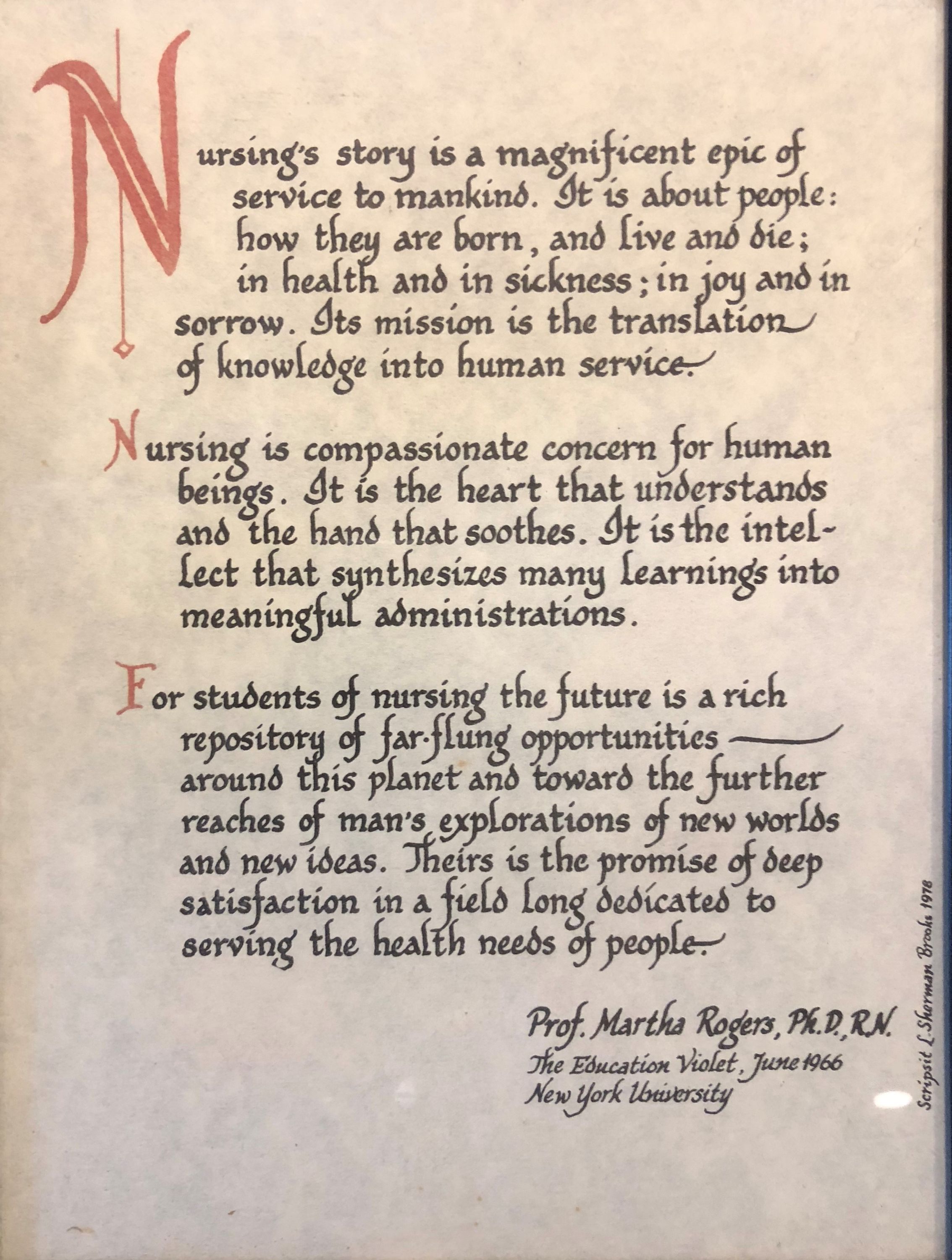 Print of Nursing's story of epic service by
Professor Martha Rogers PhD, RN, New York University.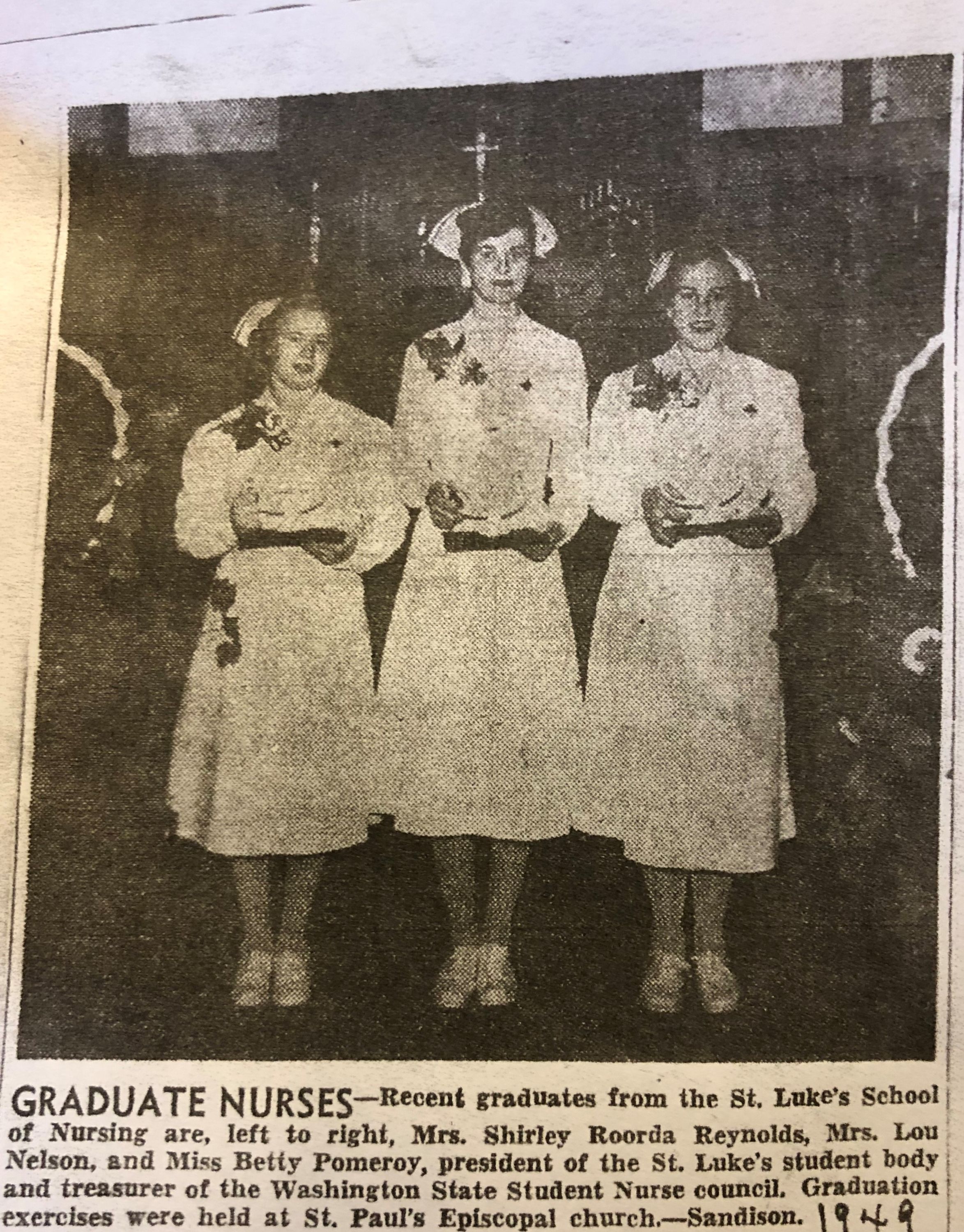 Graduate nurses, St Luke's School of Nursing, Seattle. Paper clipping 1949.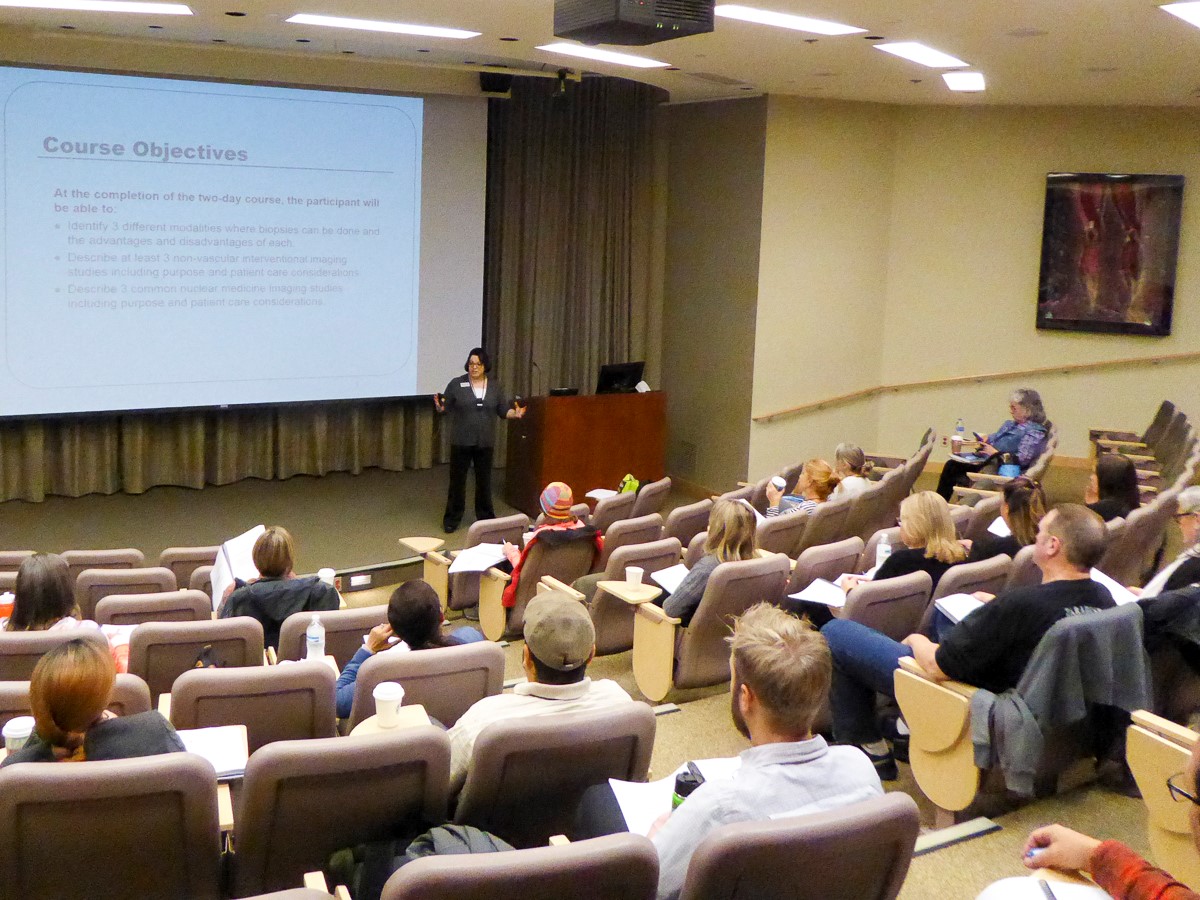 IRC Master Faculty member Lauren Miller RN, MSN
for NWARIN Imaging Review Course November 3-4, 2018.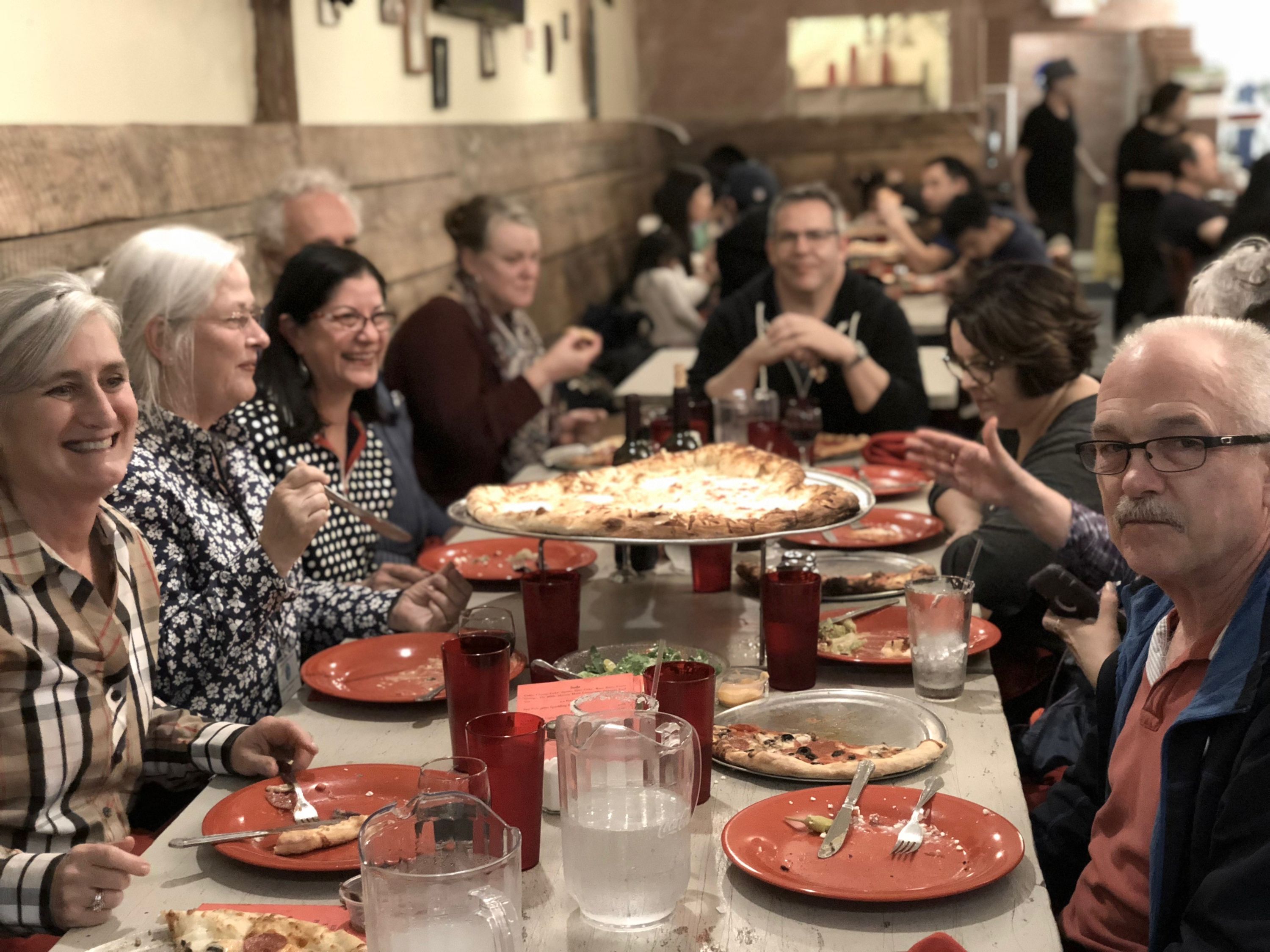 NWARIN enjoys great friends and great pizza after a day of learning.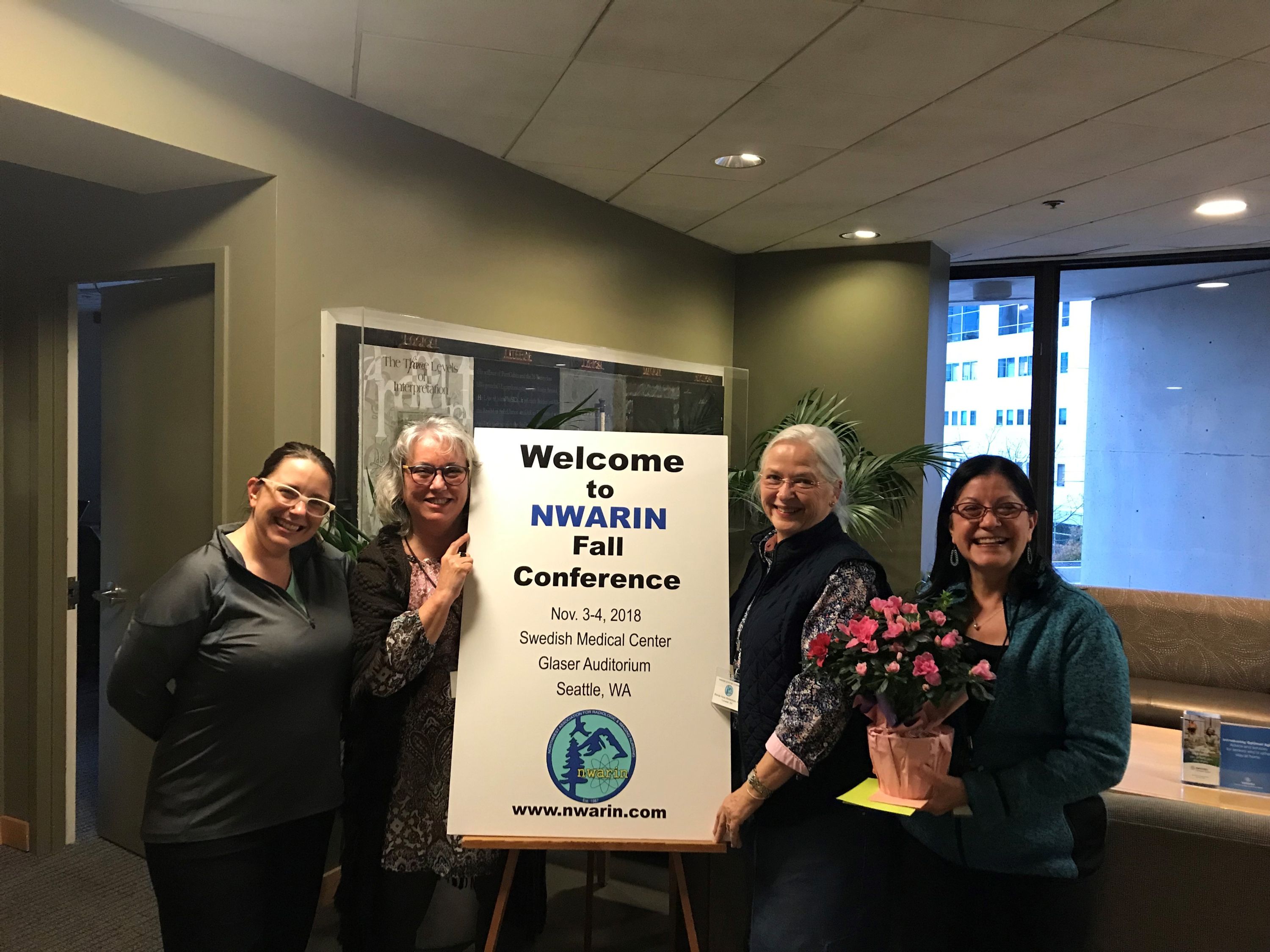 Left to Right: Renee Storm, NWARIN President-Elect and webmaster; Becky Turner, NWARIN Secretary; Brenda Hicks Wickersham, NWARIN President and Connie Flores, NWARIN founding member, Past-Treasurer and current board member.